Boston Marriott Cambridge Hotel
42.36323

,

-71.08605
Cambridge

,

United States

|
269US$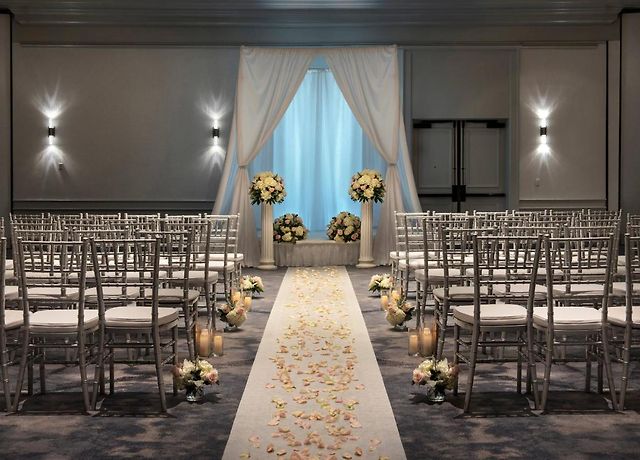 Address
50 Broadway
,
Cambridge
,
Massachusetts
,
United States
,
02142
, Massachusetts
Overview
Location
The center of Cambridge can be reached within a 25-minute walk. Fenway Park is within a 10-minute drive from this hotel, which is also set near the rooftop Kendall Square Roof Garden. Faneuil Hall Marketplace is a few minutes' drive away.
Within a 5-minute walk, guests will find Wadsworth Street cable car station.
Rooms
Some rooms include a private bathroom with a separate toilet and a sink. Some rooms have views of the river.
Eat & Drink
Cava at a 700 feet distance offers delectable dishes.
A full breakfast is served at the price of US$21 per person per day. 
Internet
Wireless internet is available in the hotel rooms at USD 12.95 per day.
Guest Parking
Public parking is possible at a location nearby at USD 50 per day.
The staff at the hotel speaks English, Spanish, Portuguese, Chinese, Russian.
Year renovated:   2006.  Number of floors:   26.  Number of rooms:   438.
Facilities
Most popular facilities
Food/ Drinks
Bar/ Lounge area
Restaurant
Welcome drink
Coffee shop
General
Paid Wi-Fi
Parking
Baggage storage
24-hour services
Food/ Drinks
Fitness/ Gym
Swimming pool
Spa and relaxation
Services
Car rental
Bicycle rental
Laundry
Dry cleaning
Wedding services
Wake up service
Stores/Commercial services
Welcome drink
Dining
Restaurant
Bar/ Lounge area
Business
Business center
Meeting/ Banquet facilities
Printers
Fax/Photocopying
Room features
Paid Wi-Fi in rooms
In-room air conditioning
Heating
Sitting area
Tea and coffee facilities
Ironing facilities
Bathroom
Hair dryer
Free toiletries
Sink
Media
Flat-screen TV
Direct dial telephone
AM/FM alarm clock
Good to know
Check-in
from 16:00-23:59
FREE
Check-out
until 12 pm
FREE
Children & extra beds
There are no extra beds provided in a room. 
There are no cribs provided in a room. 
Pets
Pets are not allowed.
Rooms and availability

Bed options:

Max:

2 persons

Bed options:

Max:

2 persons
River view

Heating

Air conditioning

Bed options:

Max:

4 persons
River view

Heating

Balcony

Air conditioning
Location
50 Broadway
,
Cambridge
,
Massachusetts
,
United States
,
02142
, Massachusetts
City landmarks
Nearby
Restaurants
Park
Boston Public Garden
1.1 mi
Market
Faneuil Hall Marketplace
1.9 mi
University
Massachusetts Institute of Technology
2800 ft
Museum
Museum of Fine Arts
1.6 mi
Monument
Bunker Hill Monument
1.8 mi
Museum
Harvard Art Museums
1.3 mi
Museum
USS Constitution Museum
1.4 mi
Monument
New England Holocaust Memorial
1.3 mi
Library
Boston Public Library
1.8 mi
Aquarium
New England Aquarium
1.9 mi
Between Beacon St and Cambridge St Beacon Hill
Public Building
Boston's Old City Hall
1.3 mi
Museum
Boston Tea Party Ships & Museum
2.1 mi
Cemetery
Granary Burying Ground
1.3 mi
Parking area
Skywalk Observatory
1.9 mi
Tower
John Hancock Tower
1.8 mi
84 Massachusetts Ave MIT Stratton Student Center Lawn
32 Vassar St
Ray and Maria Stata Center
1800 ft
Getting around
Airports
Worcester Regional

(ORH)
47.0 mi
You can book a shuttle, once your reservation is complete.
Reviews
Frank

kendall-mit tube station is within 5 minutes' walk. set only 300 metres away, legal sea foods is a wonderful place to eat nearby.

missing

The staff always pointed us in the right direction. Very helpful and cheerful!

Value of room serve breakfast was lacking, not worth $35

missing

The room was spotless!

There were a group of German people staying the room next to mine on the 26th floor. This group was partying and being extremely noisy all night long. I was forced to talk to them myself, finally after I called security, along with many other upset guests, a security guard came to their room and asked them to be quiet. 1/2 an hour later the group was back at it again and security never bothered to show up again. I could not sleep all night because of this noise. It was a very unpleasant experience.

missing

I love the friendly and efficient staff. Clean and luxurious atmosphere and best of all the location!!!!

I had a good experience!

missing

It is difficult to understand that this hotel, considering the amount paid, has no freezer in the room and the wifi is not complimentary

missing

The hotel was close to the subway, very fast to get downtown Boston

The room bathroom was very small and not clean. The hotel did not offer extra facilities/comfort (I.E. free wifi, guest slippers, extra towels,...)

missing

The location was excellent. A mbta station for the red line, which takes you to the beginning of the Freedom Trail was a few feet from the entrance to the hotel. Getting around the area without a car was very easy. We rented a car, but would not do so again, because the expense of parking was ridiculous, particularly considering the ease of using the subway.

Initially, the valet and bell service was almost non-existent. We were practically ignored until I made an issue of needing help with our luggage. Later, we got better treatment, but only after my husband made sure to tip the bell captain excessively. A business person with little luggage who is traveling by taxi would be the best kind of guest for this hotel. A couple or family on vacation should not expect the service most guests in that situation would need.

missing

The location is very good, almost near a metro station, and in walking distance of MIT buildings. Hotel offers nice views of the city and the cambridge neighborhood with spacious well decorated rooms.

It's really strange not to offer free wifi, when the surrounding area has free wifi provided from MIT. Even the small Starbucks store in the lobby hasn't. Really bad policy.

missing

We arrived in Boston close to 7:00pm, extremely tired after a long drive. Our family of four were looking forward to spending a couple of days treating ourselves in the comfortable, clean rooms of the Marriott and having a break from a very stressful and hectic year back home. When we checked in the front desk initually had a difficult time finding us in the system. When we showed our print out with the confirmation number she agreed we had a room. When we got up to our room (1208) it appeared to have been cleaned however once we got in we found an open shoe box with it`s paper contents and plastc shopping bag on the table, earphones on the table and the wrappings to what looked like an iPad. One of the beds also looked as if it had been laid in and one of the cups in the sink area had been used. After calling the front desk, 2 cleaning/support staff arrived almost immediately and changed the sheets and took the garbage. Later that night the front desk staff delivered a note, wonderful bottle of wine and food gift basket! We want the hotel to know that we are so appreciative of your extra effort for making us feel wlecome after the interesting arrival. We were very grateful for the gifts as they were actually very much needed after being on the road for so long. The Boston Marriot Cambridge staff was wonderful - thank you!

The restaurant charged a lot for a rather greasy, dull buffet for breakfast. We were seated at the back away from the main restaurant as overflow (which is fine - we understand the busy summer peak times), but it was a noisy, undeservingly expensive, rushed breakfast that was better suited to a meal at a truck stop diner and not a Marriot Hotel. That would be our only compliant. Otherwise the hotel and its staff were great. Thank You.

missing

Great location next to subway for what we needed. Very comfortable beds/bedding

missing

The view

Unfortunately this Marriott Hotel is not a good example of its network. It intends to be a executive hotel in a very important place in the US, but it's expensive (US$ 497.00 per day) without frigobar, some rooms don't have even a safe, and internet is not free (US$ 17.00 per day)!!! The employees are not prepaired to help guests and know nothing about the surroundings.

missing

We loved the location. We parked our car for the weekend in the adjacent parking garage and hopped on the subway just across the street. The bed was very comfortable, loved the extra pillows to lounge on, sheets and comforter were fresh, white and fizzy. We would definately stay again. We don't travel too often and mistakenly ordered room service for our complimentary breakfast. On checking out I explained this and was not charged, it was the right thing for the hotel to do. Thanks.

missing

Easy check-in; friendly staff; great location

No free parking; no free internet access - for the price I paid, I did not expect to have to pay extra for parking and internet.

missing

Quiet & comfortable hotel, a bit far to walk to shopping & eateries. But we managed quite well.

Not enough tea & coffee in room. Thin walls. We could hear all that was going on in the room next door, even when they were not yelling.

missing

No hassels

Internet access required a long time on the phone to the IT support resulting in my laptop configuration being altered for subsequent internet connections outside of the hotel
FAQ
What is the closest airport to Boston Marriott Cambridge?
Boston Marriott Cambridge is located 0.5 miles away from Logan airport.
Can I eat breakfast at Boston Marriott Cambridge?
Yes, you can have an buffet breakfast at Boston Marriott Cambridge.
What facilities for children are featured at Boston Marriott Cambridge?
Yes, Boston Marriott Cambridge has childcare and a playroom for guests traveling with children.
How far is Boston Marriott Cambridge located from the city center?
The city center is 1.4 miles away from Boston Marriott Cambridge.
Does Boston Marriott Cambridge feature any cleaning services?
Yes, Boston Marriott Cambridge offers room service.
What popular attractions near Boston Marriott Cambridge can I visit?
Museum of Science is worth visiting, plus it is set in 1.1 miles away from Boston Marriott Cambridge.
Does the staff at Boston Marriott Cambridge speak any foreign languages?
Yes, the staff of Boston Marriott Cambridge can speak Russian, Portuguese, English, Chinese and Spanish.
Where can Boston Marriott Cambridge be found?
Boston Marriott Cambridge is situated in Kendall Square district in 20 minutes' walk to Museum of Science.
Are there any dining facilities close to Boston Marriott Cambridge?
You will be able to enjoy a meal in nearby establishments, Meadhall and Starbucks, since they are located just about 5 minutes' walk away from Boston Marriott Cambridge.
What are the booking prices at Boston Marriott Cambridge?
The prices at Boston Marriott Cambridge start from $247.
Does Boston Marriott Cambridge arrange any sport activities on site?
At Boston Marriott Cambridge guests can enjoy snow skiing and hiking that the hotel offers for active guests.
Can I find any public transport next to Boston Marriott Cambridge?
Within 350 feet of Boston Marriott Cambridge guests will find Kendall/MIT metro station.